The Duke of Edinburgh presents 90 awards in Berlin
The James Simon Gallery at the Museumsinsel in Berlin is normally closed on Mondays. On 22 May 2023, it was teeming with young people looking for their assigned seats in the large auditorium and glancing around excitedly. They had travelled from all over Germany to receive their Bronze, Silver and Gold Awards from someone very special: Prince Edward, Duke of Edinburgh, has come to Berlin especially to honour the students. He is the recipient of the Gold Award himself, so he knows what he is talking about when he describes the strains of the expedition and the feeling of not knowing whether the effort was worth it. But it is worth it, as you can see on the faces of the participants when they receive their awards and are already talking about the next level they want to reach.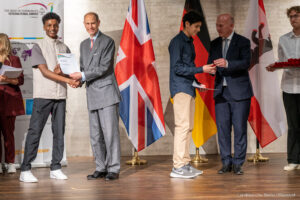 The new Governing Mayor of Berlin, Kai Wegner, was also present and expressed his appreciation for the award. At the get-together afterwards, those who had already reached the silver and gold levels had the opportunity to talk to the Duke in a smaller circle.
Photo Copyright: Jule Halsinger