The Duke of Edinburgh visits a school in Berlin
22 May 2023 was a big day for the Schule am Schillerpark in Berlin Wedding. High-ranking visitors had announced themselves: Federal Minister of Education Bettina Stark-Watzinger and Berlin Senator of Education Katharina Günther-Wünsch, who is also the President of the Standing Conference of the Ministers of Education and Cultural Affairs, accepted the invitation of our association to reflect together with our patron, the Duke of Edinburgh, on the potential of the Award to help shape the educational landscape in Germany.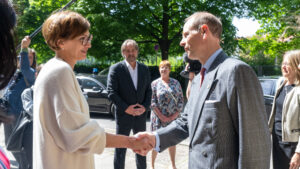 First, however, students presented their projects that they had implemented as part of their participation in the Award. These included a fundraising project for the earthquake victims from Turkey and Syria or the Café Klosterhof, which is run by students together with the Hemingway School. A highlight were the home-baked waffles, which are sold by a student company during every break. The Minister and Senator were also able to convince themselves of their quality. Prince Edward, on the other hand, slipped behind the counter and chatted with the pupils while they decorated the waffles with Smarties and icing sugar.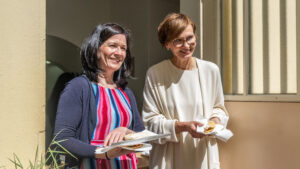 Afterwards, the school administration and the invited guests met for a short round of talks. The focus was on the effect that the Award has on the personal development of young people, even if the starting conditions are very different. The school at Schillerpark is located in a district where many families receive transfer payments, and the language of origin is often not German. But through voluntary commitment and the support of the management, a lot is possible, as can be observed here very well. Nevertheless, in the long term, institutional support and anchoring of such projects in the educational landscape is needed so that they can have a lasting effect. Everyone agreed on this.
Photo Credit: BMBF/Hans-Joachim Rickel