What is the Duke of Edinburgh's International Award?
The Duke of Edinburgh's International Award is a framework for self-directed personal development and potential fulfilment of young people.
Participation motivates teenagers and young adults to take on individual challenges in a variety of areas outside of an academic curriculum, guides them along the way and recognises their commitment by awarding them an internationally recognised award.
One can participate in the programme between the ages of 14 and 24. The Bronze, Silver and Gold levels require the following programme components
Engagement          Fitness               Talente           Expeditionen       Goldprojekt

which require more and more time, commitment and personal responsibility. Participants choose activities, set personal goals and challenge themselves to achieve them, according to the motto: You can do more than you think! This process of goal setting, implementation and reflection is accompanied by an Award Leader over a period of 6 – 18 months, depending on the programme level.
What are the benefits of participation?
Through an upward spiral of experiences of success and self-efficacy that are independent of academic achievement and starting point, young people develop changed perspectives and competencies that enable them to become aware of their strengths, discover and develop their potential and make lasting positive changes to their life situations and our society. They are encouraged to reach for their personal stars and find their place in our world.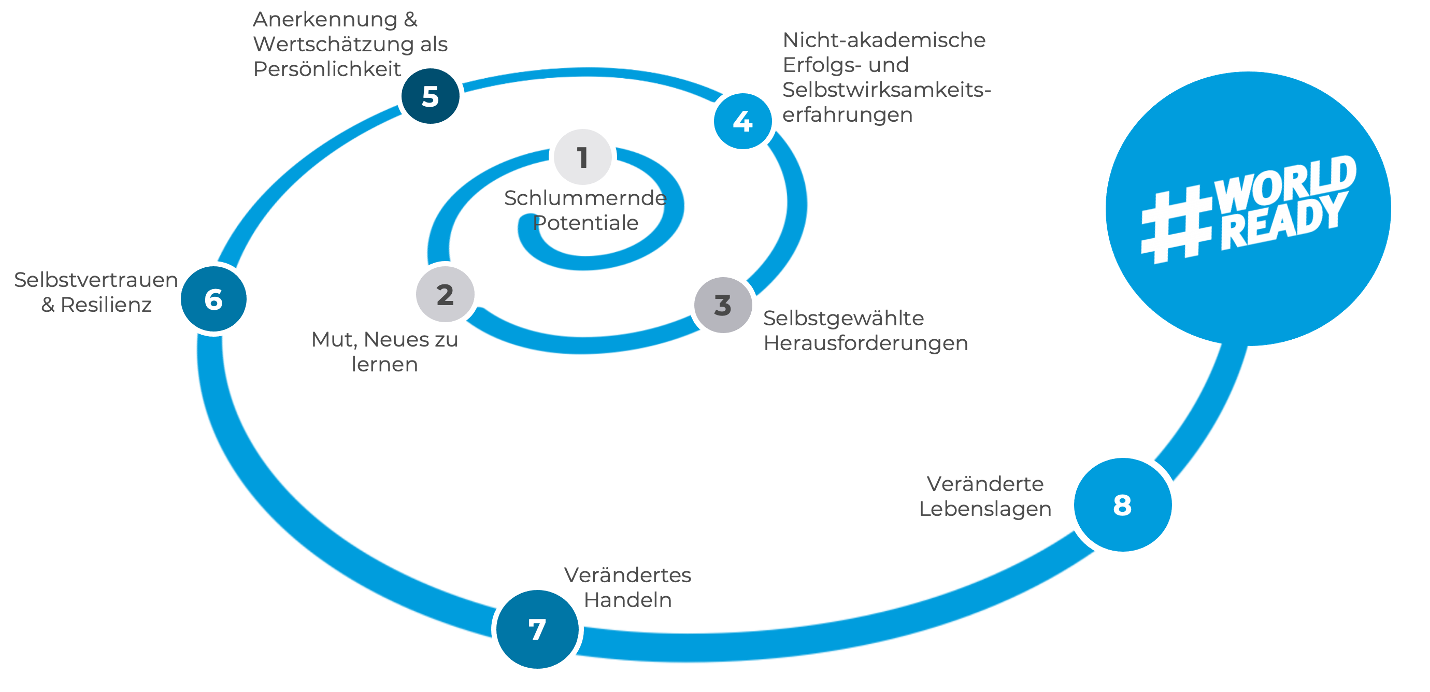 What is the role of the Award Leader?
"Imagine that anything is possible, who or what would you like to be? What would you like to be able to do? Is there anything you have wanted to do all your life? What is the most beautiful activity you can imagine?"
Award Leaders guide their participants to dream big and support them in identifying and naming very personal aspirations. Together with Award Leaders, young people consider what activities might support the achievement of these dreams and aspirations, plan a concrete course of action and set challenging but achievable goals that are specific and personally relevant to them.
If they encounter difficulties along the way, they can rely on the support of their Award Leader who, while not prescribing a solution, motivates, guides and supports them to find a solution themselves. This approach enables young people to experience many small successes and to acquire strategies that enable them to cope with unpredictable and difficult situations in the future.
Participants experience that they can make a positive contribution to their environment and bring about change. They acquire new skills and perspectives that make a lasting difference in their lives.
Further information on the impact logic of the Award Programme can be found in our impact report.
Impact Report
What age is the programme suitable for?
As the expeditions are carried out without direct supervision, participation is only possible from a certain age.
The following minimum age applies for the respective level:
Bronze: 14 years
Silver: 15 years
Gold: 16 years
Students who are not yet 14 years old may participate in the Bronze level if the majority of their group of friends is already 14 years old.
Participants who have completed the Bronze Award may start at the Silver level without having to wait for their 15th birthday.
At the Gold level, no activities will be considered before the participant's 16th birthday, as the Gold level is a particularly demanding challenge.
How long does the participation take?
Participation lasts at least 6 months at the Bronze and Silver levels and at least 12 months at the Gold level. For participants who start directly at a higher level, the minimum duration of participation is extended according to the following overview:

Expedition requirements
Expeditions offer young people challenging and unforgettable experiences. In a small group, tours lasting several days are carried out in an unknown environment. They require determination, stamina and team spirit and promote independence, self-reliance and self-efficacy.
Expeditions always have a clear theme as their focus and are usually unaccompanied. Groups are self-catering; equipment, food and tents are carried at all times.
All expeditions must comply with the 15 conditions set out in the handbook in order to be recognised. The duration and number of expeditions for successful completion of the expeditions part of the program are illustrated by the following chart: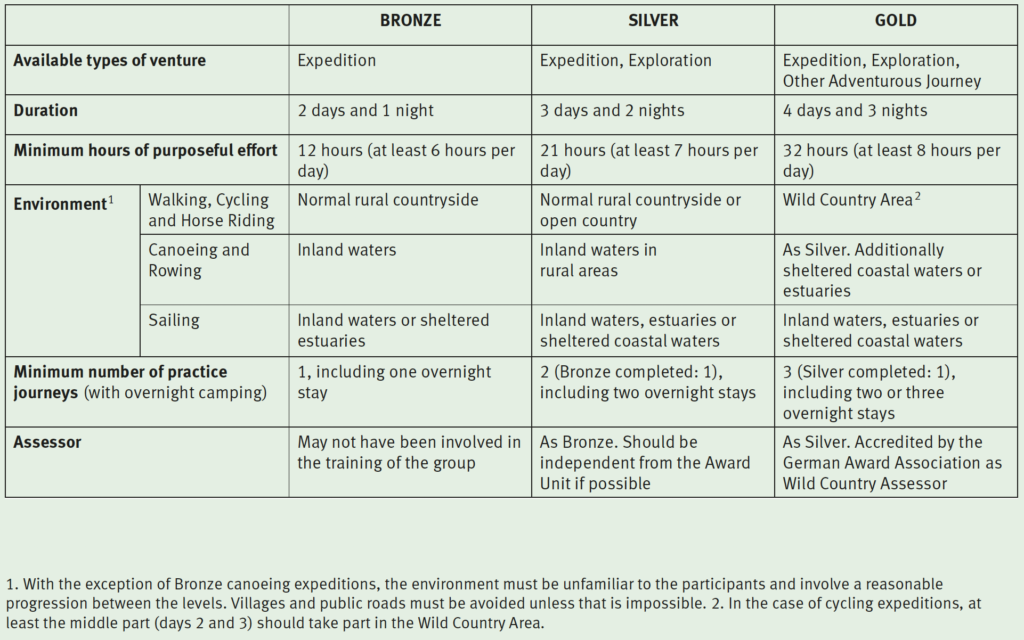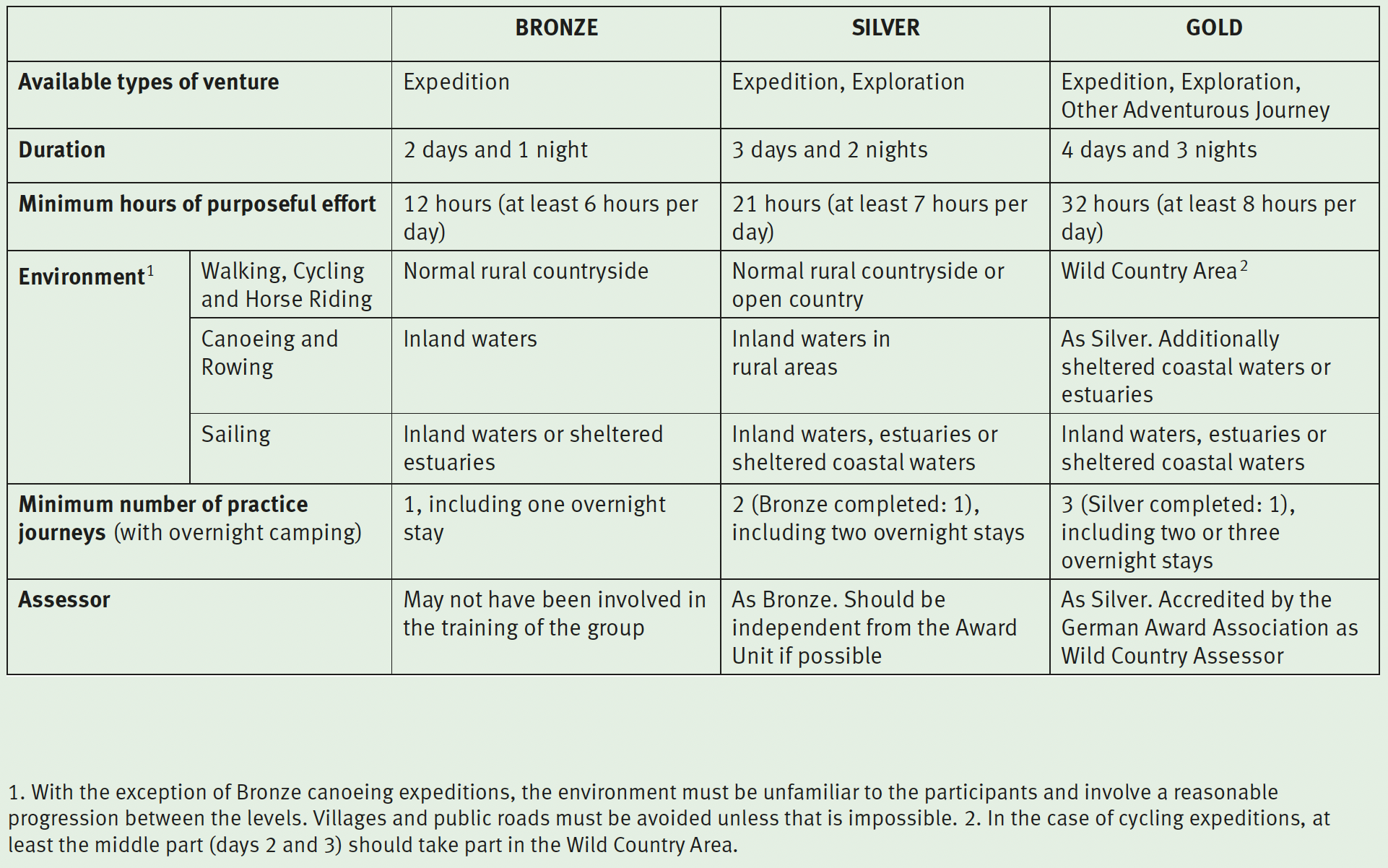 (Source: Manual for program providers)
What are the guiding principles for participation?
Our guiding principles that should guide the design of personal programs are the following:
Individual. Participants design their own programme according to their personal circumstances, interests and local possibilities. If the age requirements are fulfilled, they start at the level that is most suitable, and take as much time as necessary (within the age limit).
Non-competitive. It is about a personal challenge and not a competition. Each program is tailor-made and reflects individual starting points, personal abilities and interests.
Doable. Regardless of ability, gender, background or location, any young person who is up for the challenge and receives the necessary help and motivation can successfully complete the program.
Voluntary. Even if the program is offered at school, college, club, company, welfare institution, etc., everyone decides for themselves whether to participate
and spend some of their free time on the chosen activities.
Promotional. Personal and social development is promoted. Young people gain valuable experience, acquire so-called "life skills", strengthen their self-confidence and become aware of their environment and social challenges.
Balanced. By engaging in up to five activities, the program offers a holistic framework for the development of mind, soul, body and sense of community.
Graduated. Bronze, Silver and Gold levels require progressively more time, commitment and responsibility.
Inspiring. The program inspires to exceed expectations. Participants set personal goals before starting the activities, follow them over time and receive an award when they achieve them.
Persistent. The goals require perseverance and cannot be achieved with short-lived enthusiasm. Participants are encouraged to continue their activities beyond the minimum prescribed period of participation.
Fulfillment. Participants and Award Leaders should enjoy participating and find it fulfilling and rewarding.
By following these ten guiding principles, we aim to give every young person the opportunity to participate in the Duke Award, regardless of their personal circumstances. The individual and non-competitive nature means that participants from different backgrounds can take equal pride in achieving the award.
Please refer to the Duke Award Handbook for tips on how young people with special needs can participate. Please do not hesitate to contact us for further advice.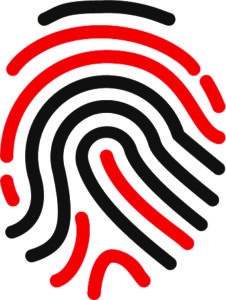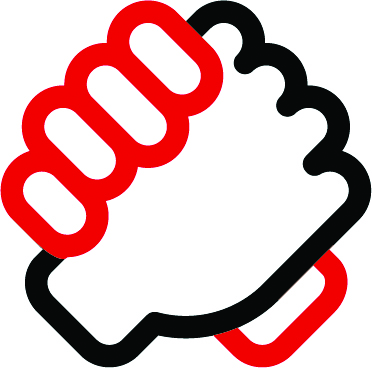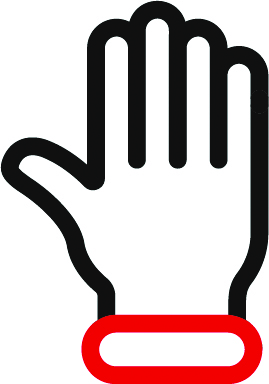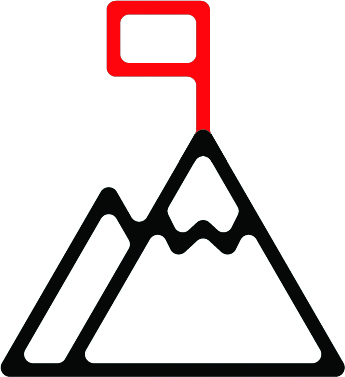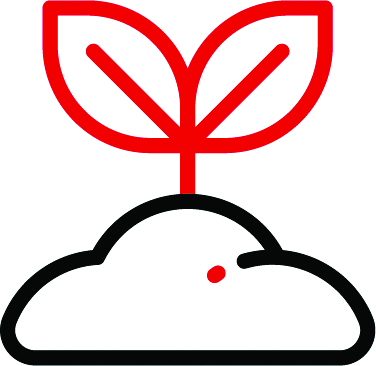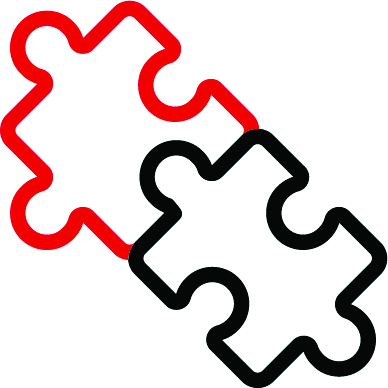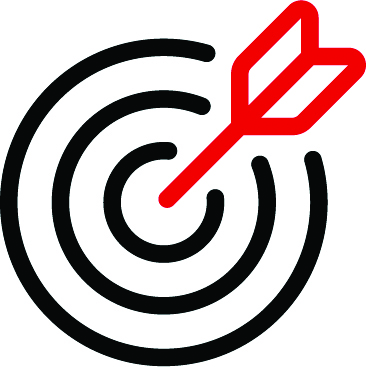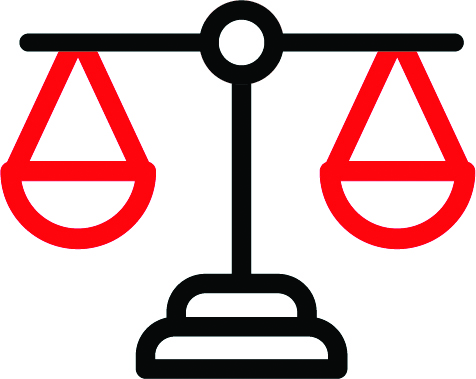 Is the program suitable for Azubis, trainees and young professionals?
Yes! A key success factor for companies is their ability not only to attract young talents but also to provide the best possible support for their professional and personal development and to retain them in the company in the long term.
The Duke of Edinburgh's International Award offers a structured framework for the personal development of young professionals in training or on the job, and thus many opportunities for companies as well:
Development of leadership personalities and preparation for higher (managerial) positions in the company.
Embedding in a Corporate Social Responsibility strategy, with experienced employees assuming responsibility as Award Leaders for participating trainees and apprentices and/or students in the company's environment.
Promotion of an identity-creating corporate culture
Binding young employees to the company
Increasing competitiveness
Networking in the corporate environment
In many countries, the Duke Award is an integral part of the promotion of young talents in leading companies.
How do you advocate for children's rights through the Duke Award?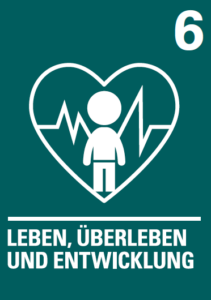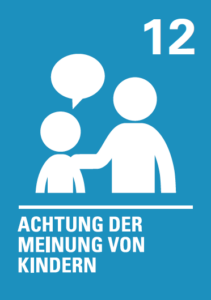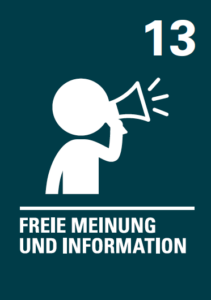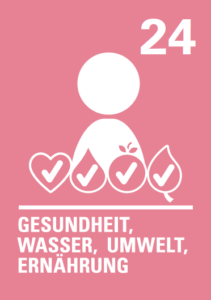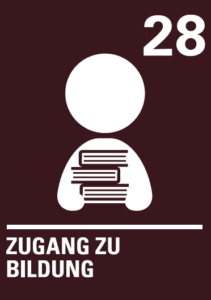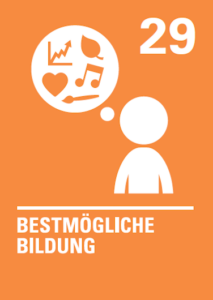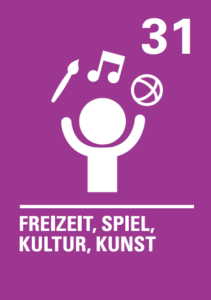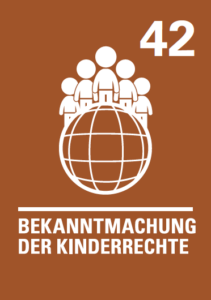 The right to equal opportunities (Art. 2): No child may be treated unfairly and all children must be given the same opportunities. Participation in the Duke Award is therefore possible regardless of financial, social and linguistic factors.
The right to the best possible development (Art. 6): True to the motto "You can do more than you think!", the Duke Award focuses on the strengths of young people and lets them grow beyond themselves. In this way, you as a programme provider enable self-effective personal development.
The right to freedom of expression (Art. 12 and 13): The programme is an activation point of unexploited talents – for this, they need freedom of expression and self-determination to discover themselves, free from the expectations and restrictions of school, parents and society.
The right to health (Art. 24): Through the fitness section, responsibility is taken for one's own health and sporting activities by encouraging physical activity.
The right to education (Art. 28 and 29): By participating, you support the non-formal education of young people, specifically their personal development. This promotes the key competencies of the 21st century.
The right to leisure and participation (Art. 31): The Duke Award promotes participation in cultural and artistic activities by encouraging children and young people to develop and present their talents and interests. In doing so, the award represents an appreciation of extracurricular engagement.
Publicise children's rights (Art. 42): As a program provider, you stand up for children's rights and carry them into the world with your mission! In doing so, the program is shaped by this in its thinking and actions at every step.
UN Convention on the Rights of the Child