What is the Duke of Edinburgh's International Award?
The Duke of Edinburgh's International Award is a global framework for the self-directed personal development of young people. If you decide to take part, you will set yourself challenges and personal goals in the following areas and pursue these over a certain period of time:

At the end of your successful participation you will receive an Award in a festive setting as a recognition of your commitment and achievements which might also – if you add it to your application portfolio – open doors to your dreams.
Do something special – be a Duke!
Programm-Flyer
How will I benefit from doing my Award?
Doing the Duke of Edinburgh's International Award can be a life-changing experience. You will learn new things about yourself and discover strengths you never knew you had. Together with others, you will overcome challenges and make new friends. The Duke is also a tool to learn important skills for life. At the end, you will receive an internationally recognised award for outstanding achievement, which is prestigious with many employers, and might just open a door to your dream for you.
Last but not least, you will create memories for a lifetime.
Can anyone do the Award?
Any young person between the ages of 14 and 24 can do their Award – completely regardless of ability, religion, social background or anything else. The Duke is not about being better than others, but about setting challenging goals and moving personal boundaries. Participation is more like a marathon than a sprint!
How old do I have to be and how long will it take?
As the expeditions are conducted without direct supervision, young people are only allowed to participate in the Duke from a certain age.
The following minimum ages apply for the respective levels:
– Bronze: 14 years
– Silver: 15 years
– Gold: 16 years
If you are under 14 but most of your friends are 14, you may be allowed to join at Bronze level – check with your Award Leader. If you have already done your Bronze Award, you may continue at Silver level without waiting for your 15th birthday.
Gold Level: No activities prior to the participant's 16th birthday may be counted to ensure that this level is a particularly demanding challenge.
The following table shows the minimum duration of your Award depending on the level you choose: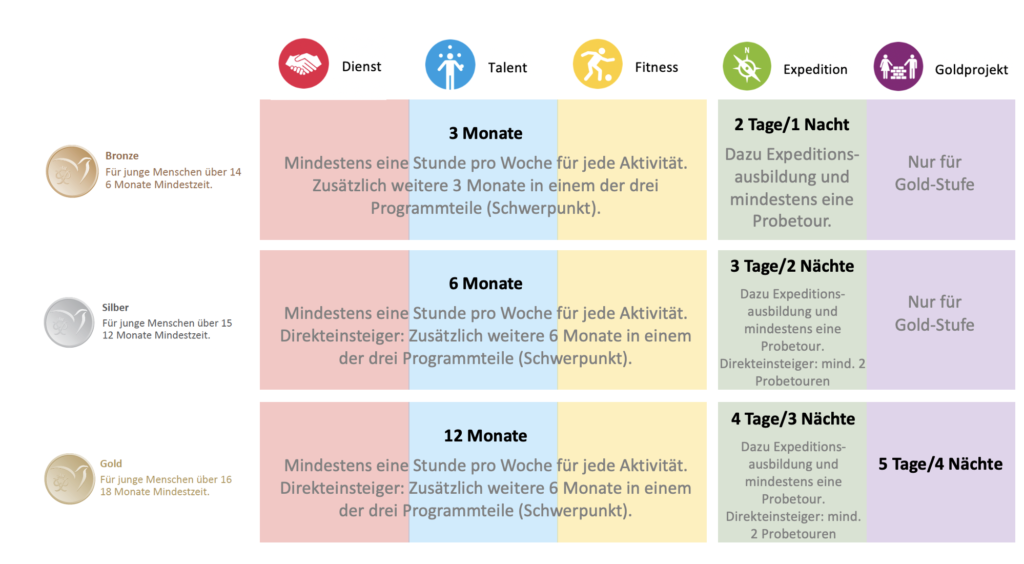 How much does it cost to take part?
The Duke costs participating teenagers and young adults 7.50 Euros per level at public schools or institutions and 15 Euros per level at private schools. In some cases, at a public school, you can receive a kind of "scholarship" through your school's funding possibilities and participate for free.
If you would like to document your activities in our printed record book, this can be purchased by your Award Leaders in our shop for 5 Euros (optional). Alternatively, you can use the Online Record Book (ORB Participant) which is available also as an app.
Your school pays an annual licence fee in order to be entitled to offer the programme and a fee of 6 Euros for your Award at the end of your participation.
These are the basic fees. In addition, there will probably be costs involved for expeditions. To be well equipped on an expedition, you will need equipment. This includes at least a tent or a tarp, a sleeping bag, a sleeping mat and a cooker. If your school or organisation cannot provide equipment, it can be expensive. In certain cities (e.g. in Berlin at "Der Aussteiger") you can get discounts on expedition equipment. Indicate the school through which you are attending the Duke.
Otherwise, flea markets for expedition equipment are a good way to buy equipment relatively cheaply. You may also be able to borrow equipment from family or friends. Or you can start an appeal at your school among parents and teachers to donate equipment that is no longer needed for participation in the Duke.
You can find a sample packing list of what you will need for the expeditions on our Resources page.
If your school participates in the Duke as part of a "Strong Teens" project, the costs for the expedition section usually include mainly the ticket to the expedition area and costs for the food you take with you on the expeditions. Equipment (backpack or bike bags, tent, sleeping mat, sleeping bag, cooker) is provided free of charge.
Registration and first steps
How to find an Assessor
The assessor confirms that you have successfully completed an Award section. Evaluators must be independent, so they cannot be family members.
Anyone who is interested in supporting you, knows a little about your activity and has enough time can be your evaluator. This could be a football coach, the head of a charity, a neighbour who knows web design or a teacher who teaches you how to fish.
Here you can find forms for the assessments that you can give to your assessors. Alternatively, they can use to forms provided by the ORB.
Gutachten Dienst
Gutachten Talente
Gutachten Fitness
Duke in Training and Studies
Even in training or at university, it's not just about school, lectures, assignments and exams. It's also about personal growth, making friends, trying new things, being active and healthy, and taking responsibility for others.
Over 18 months, you will gain experience, build confidence and self-esteem, develop resilience, perseverance and special skills through your own chosen activities, while having an interesting and fun time together with like-minded people.
Employers value participation in the Duke highly, so your award may open doors for you. Many of the skills you will gain can be used in your education or training as well as for your personal and social development.
If you are unable to find an Award Operator, you can participate in Duke on your own through Duke Direct and will be supported directly by the Association.
Duke Direkt
Duke Direct is a way for teenagers and young adults to do their Duke of Edinburgh's Award independently of a licensed institution if there is none in their area.
Independent participants can do their Duke activities at their own pace with dedicated support from an Award Leader in our association. Mentoring takes place via video, email and/or phone depending on where you live. However, for the Expeditions section of the programme, collaboration with an external provider such as Outward Bound is required.
However, due to the high level of self-motivation and discipline required to participate outside of a school setting, we recommend first exploring all options for participation with a nearby Award Operator. We are happy to assist with this.
For more information on independent participation, please see our flyer. If you have any further questions, please email us and we will be happy to help.
Wie funktioniert Duke Direkt?
Anmeldeformular Duke Direkt
Let the video inspire you! It is aimed at anyone over 18 as this is the age limitation for Duke Direct in UK. In Germany, we offer Duke Direkt from the age of 15 onwards in special circumstances.